Flyover country. Middle America. A cultural desert. These descriptions of America's Midwest might sting if you're a native, but, at this point, they are more than likely white noise to you, a ubiquitous background note played by east and west coast media outlets. They either tell a bleak tale of economic destitution, or a romanticized vision of a simpler, more agriculturally based way of life, neither of which exists on the coasts where those stories are written.
Either way, too often, someone else is telling the Midwest's story. Four young people from this area are trying to change that with Midstory, a nonprofit that launched last year.
Expanding our canopy
"Midstory is an ecological term for a canopy of trees," explains Midstory Cofounder Logan Sander. "There's the upper story, the lower story, and the midstory. The midstory has to exist in order for the upper story to flourish and for the lower story to be protected."
This metaphor for the Midwest's role in America's story is the crux of what the nonprofit does; their website includes articles and videos that focus on Toledo's identity, with content created not only by the founders and their team of researchers, but also by community members who want to carve out their piece of the narrative.
Sander, Sam Chang, Ruth Chang, and Alex Lim are all people who left the Midwest to pursue their educations in very different academic fields. At some point, "we were all at a crossroads in our lives," said Sander. She and Sam, who both grew up in Sylvania, found themselves back in Toledo after they completed their studies on the east coast, feeling like there was something more they could be contributing if only they were back home.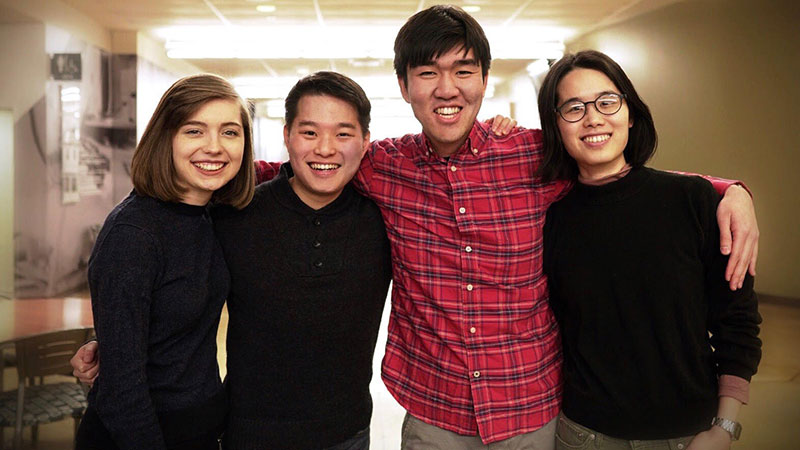 Toledo Water Project
Midstory's mission is to rediscover the history of our region while acknowledging our present-day challenges, and also striving to use education and storytelling to create hope for the future. It all began with one of the most highly publicized problems our region faces– the Lake Erie water crisis.
"We have been working on the water issue for some time now as remote researchers," says Sam. "That began about three years ago as the impetus for Midstory. We wanted to give back to our community as an educational group that shares research on the water issue, but we've evolved since then."
You can find this research on Midstory's website under The Toledo Water Project, a page that presents illustrations of Toledo's beginnings in the Great Black Swamp, the ecological importance of Lake Erie, and an impressive 57-page report the Midstory team created titled "The Toledo Water Project: Overview and Implementation Plan."
What enables Midstory to create such compelling stories and highly researched data is the diversity of those who work on the projects. The founders alone come from very different academic backgrounds. Sander studied comparative literature and has a journalism background; Sam has a nonprofit, policy background and is a freelance videographer; Ruth worked in architecture and design; and Lim has a degree in biological engineering and three years of experience performing cancer research at MIT. Their expertise, plus that of volunteer professors and students from The University of Toledo and Bowling Green State University, creates a view of this region through a unique lens.

Dealing with depopulation
"The first issue we're hoping to tackle is depopulation of post-industrial cities like Toledo," says Logan. "Young people have dreams for their careers, for social engagement, for urban life– all of that, seemingly, doesn't lead them to Toledo. We're really hoping to combat that, and to make Toledo a place that even people who aren't from here want to come to."
Aside from their Toledo Water and Plastics Projects, Midstory presents content that is meant to remind people that this is a place to be proud of. An article series, "Memoirs of a Toledo Childhood," and a video series, "Toledo on the Map," embody where the city has been and where it could be. Being exposed to this content (better yet, contributing to it), is one way the nonprofit builds pride in the region to push back against depopulation.
Another way is getting students involved. There are programs for both high school and college students to generate content, harnessing their already well-developed habit of using media to document their own lives, while encouraging them to love their city. This is accomplished through Midstory's youth engagement programs, like High School ThinkLab, which includes six weeks of workshops and field trips that put students in the center of what's happening in the city of Toledo. It's creative, multimedia storytelling that provides the students with new skills and also generates content for Midstory. They also offer college internships.
"Whether they choose to stay or go, hopefully the experience will put Toledo in a special place in their hearts," says Logan.
Sam points out that, with college students, "there is a mentality of wanting to leave. I think hopefully, what we can do for these young people is to have them realize what they have here. Even though it's not like New York City, there are lots of aspects of Toledo that people don't know about."
Post-Industrial dreams
Having input from a generation of multimedia creatives, academic voices from various disciplines, and community members to tell post-industrial stories begs the question: what is a post-industrial identity? The answer is that there's not only one. Everyone defines what home means to them differently, as Sam points out. "There are a lot of different ways to look at that," he says. "I think our focus is really telling the human stories that exist in this area. There are many perspectives and, when you talk about perspectives, people start dividing themselves. Hopefully we can be a platform for a lot of these stories."
Making a connection to a national audience is also Midstory's hope. Many Toledoans know what the city has to offer, as do people in other parts of the Midwest about their own spot on the map. How do we get these stories inserted into a larger narrative, the way that cities like New York and L.A. have been able to do? That's where taking ownership of the story comes in. Midstory is all about showing people nationwide that the Midwest isn't about failing economies, dilapidated buildings, and a void filled only with fields and corn silos.
"It's really unique to be in the midst of a community where you can have a place in a re-emerging identity," says Logan. Sam adds that Midstory's work is done "with the hope of dreaming and imagining the city for what it could be. The settlers that came to Toledo built the city because of that dream"
Visit midstory.org to check out their content and find out how to get involved through sponsorship, donations, and submitting content.