Honeymoon Stories
Ellie & Brandon Kaufman
Where did the two of you decide to go, and why did you make that choice?
We went out west and visited Zion National Park, the Grand Canyon and Lake Powell. Our final two nights were in Las Vegas. We had Thailand booked and paid for, but with Covid restrictions, we were forced to cancel and got our money back. On our one year anniversary, we took our honeymoon (finally) and wanted to see as much as we could in one trip. We love adventures, so a beach resort just wasn't for us. 
Did you go through a travel agency?
We didn't – we planned it ourselves!
Which airport did you fly from?
We flew from Savannah, Georgia to Las Vegas and rented a car.
Which hotels did you stay in, and what did you like about them?
We stayed in small hotels near the parks, but splurged and stayed in a suite at The Venetian in Vegas! I loved the convenience of being so close to everything at the Venetian, but the small hotel in Zion had its own quaint charm with a gorgeous view at sunrise. 
Were there any local spots that made your trip special?
Our favorite restaurant was a cool mountainside pub near Zion that had the best local brewed beers and burgers!
What were some of your most memorable experiences?
The most memorable experiences were our hikes. Our favorite was the four-mile round trip kayak excursion to Antelope Canyon from Lake Powell. Once you get there, you park your kayaks and hike another 2.5 miles round trip. The slot canyons were some of the most mesmerizing views. Horseshoe Bend was another breathtaking moment as well. 
Any advice for future honeymooners?
My biggest advice is to research the national parks and make sure that you prepare for the hikes you choose! It's very dry out west, so HYDRATE. 
---
Angie Ernest-Turpening & Dane Turpening
"Our wedding was in the middle of the pandemic, so our honeymoon became a little tricky to plan! Flying somewhere tropical was not possible, so we decided to head into Northern Michigan.

We always try to find unique or historic places to stay, and our first stop in East Jordan, Michigan was both! We stayed a couple of nights at a 100-year-old grocery store that has been turned into a beautiful Airbnb. Guther's Cottage did not disappoint! From there, we went to Charlevoix, Petosky, and our final stop was Traverse City. We went sailing, hiking at a lavender farm, drank wine at the local wineries and checked out the lighthouses. Due to Covid, most restaurants and bars had moved their establishments outside and it was perfect. We loved every minute of our little Covid honeymoon!" 
---
Lindsey & Cody Wallace
Where did the two of you decide to go, and why did you make that choice?
With the uncertainty of COVID-19 regarding international rules and restrictions, Cody and I decided we wanted our honeymoon to be in the U.S., where we had a bit more understanding of pandemic expectations and requirements. We decided to do an east coast tour honeymoon with a focus on Vermont and Maine. We started our first night driving to Eastern Pennsylvania just to get closer to our first Airbnb. We specifically wanted to travel up the coast of Maine.
Our first leg of our honeymoon was in Middletown Springs, VT. My husband is a huge Lord of the Rings fan, and we found a replica hobbit house in a Shire. It was the most incredible experience! We then left Vermont and stayed in York, a coastal town in Southeastern Maine. From there, we traveled up to Boothbay Harbor, ME, an adorable fishing town with AMAZING seafood.
How did you plan your trip?
We didn't use a travel agency, but we spent a few nights looking everything over, mapping our route and planning our stays through Airbnb and VRBO.
Did you fly or drive?
Cody and I drove just so we had a bit more control on where and how we could travel during our honeymoon.
What did you love most about your accommodations?
With the Vermont Hobbit Shire Airbnb, we LOVED that it felt like you stepped into the actual movie. The inside of the hobbit home was filled with replica Lord of the Rings items, and the hosts had over 6,000 hours put into building, designing and creating the home, making it really feel as if you were in one of the movies.
In York, ME, we stayed in an AMAZING hotel called the York Harbor Inn (yorkharborinn.com). York Harbor Inn is made up of seven buildings, all located down a road that looks over the York Harbor. Every building is a beautiful New England-style home that is filled with history. We stayed in the Chapman Cottage that was built in 1899 and has been beautifully kept; it was comfortable while still maintaining its historical roots. Our room featured a jacuzzi tub with two fireplaces for a really relaxing bubble bath!
In Boothbay Harbor, ME,  we stayed at the Ocean Point Inn and Resort (oceanpointinn.com). We loved that this inn had its own pier that we could walk down and enjoy. It also had its own restaurant on site, making for an easy walk to dinner. The inn also had an amazing firepit that sat directly next to the bay where they provided you with s'mores and beautiful views.
Note any restaurants and other businesses that made your trip special:
The York Harbor Inn has a restaurant called The Cellars Pub, and it was absolutely incredible. When booking our reservation, we noted that it was our honeymoon, and they made sure we felt very special. They reserved us the best table in the house and provided us with complimentary champagne. The inside of the restaurant was built to look like the inside of a ship's hull. Here I had some of the best and freshest seafood of my life. Lobster ravioli, PEI mussels, and incredible drinks. I cannot recommend this place enough if you find yourself in York.
What were some of your most memorable experiences?
At the Hobbit House in Vermont, the hosts spared no expense in creating an unforgettable experience for its guests. Inside the house was hidden the "One Ring," just like from the movies, and we had to solve riddles in order to find the ring hidden inside the home. Once we found the ring, we were able to keep it. The host also planned a scavenger hunt for us to complete on the 12-acre property, where we had to complete tasks like solving riddles and puzzles and archery challenges in order to find the "Arkenstone" from the movie. This wasn't just an Airbnb; it was a full-on, immersive Lord of the Rings experience. Inside the home was a pub that provided drinks, cards, darts and even a self-playing piano. The entire stay was so much fun!
York, ME was a beautiful town filled with beaches where you could walk the coastline and enjoy a sunset. This town had an awesome little shopping area filled with adorable shops, ice cream places and food.
Boothbay Harbor was a fishing town with plenty to do! With a large outdoor pier and shopping area, you could find yourself wandering from adorable shop to shop picking up souvenirs, clothing, pottery and plenty of other items.
Advice for couples who are thinking of honeymooning in these spots:
If you're looking to spend your time in one location without traveling further, I would HIGHLY recommend York, ME. It has everything you would need to fill your days, like amazing restaurants, shops and coastal beaches. With its beautiful New England architecture and atmosphere, it feels as if you're stepping back in time and it's the perfect place to relax and unwind.
If you're a Lord of the Rings fan, I cannot recommend the Hobbit Shire enough. It's a location that will provide you with endless experiences and memories. If you decide to visit, book at least two nights. One is simply not enough to take it all in!

---
5 Venues for a Killer Reception
Heather Downs Country Club.
3910 Heatherdowns Blvd.
419-385-0248. heatherdowns.com
Heather Downs Country Club weddings serve up to 250 to 300 guests with a full-service experience that will require less work when it comes to wedding planning. The catering, bar, linens and chairs are provided in-house and the staff will also help with setting up your placement cards, lighting, centerpieces and more. If you've ever had to do all of this yourself for an event, you know how much work it is! You and your family deserve to relax on the day of your wedding. Plus, the private Grand Ballroom that overlooks the Club's pristinely kept grounds will be an unforgettable experience for you and your guests. 
Toledo Country Club.
3949 River Rd. 419-385-1762.
toledocountryclub.com
Toledo Country Club can accommodate up to 300 guests, with a main dining room and the scenic River Room, which has an adjoining deck and patio overlooking the outdoor dance floor and the Maumee River. Surrounded by the Club's timeless style and stealing a quiet moment with your partner on the patio as your friends party below, it's not hard to imagine why so many people have chosen this venue for their receptions. Another perk: The Club also has a staff to help you execute all the little details that make a reception memorable, down to a personalized menu courtesy of their executive chef.
Oliver House.
27 Broadway St. 419-243-1302.
mbaybrew.com
Another downtown venue that encompasses the best Toledo has to offer, Maumee Bay Brewing Company's Oliver House provides a unique experience. The historic venue has room for up to 250 guests, with catering and planning services included. According to many happy brides who've left reviews on The Knot, working with the coordinator makes for a seamless experience, and there are several different spaces to choose from depending on your guest count. Whether you decide on a simple function at The Cafe or a big soiree at The Warehouse, you can rest assured that the staff at Oliver House know what it takes to throw a great party.
The Toledo Club.
235 14th St. 419-254-2981.
toledoclub.org
For a downtown venue that makes you feel transported to another time, The Toledo Club is the venue for your reception. The dark wood accents and turn-of-the-century architecture lend a level of class to an event that isn't easy to match, but it's certainly not a stuffy relic— the staff keeps up-to-date on wedding trends to personalize each couple's experience. The culinary service at this club sets it apart from many other venues, as well as the photo ops in this distinctive historic setting. See a virtual tour that will wow you on The Toledo Club website.
HeART Gallery & Studios.
428 N. Erie St. 419-243-4214.
heartgalleryandstudios.com
St. Paul's Lutheran Church HeART Gallery has enough reception space for 300 guests— all of whom will be captivated by the venue's elegant style— to dance the night away after your nuptials. It's an excellent choice for couples who want a church wedding (a gorgeous church with stained glass windows and a German pipe organ) and a reception that doesn't require moving to another location. The staff helps with setting up and disassembling the reception decor, plus the furniture, centerpieces, napkins, tableware and many other necessities are provided. With ample space to dance and a no-fuss approach to planning, this reception venue will steal your HeART (come on, we had to).
---
How We Met
…playing sand volleyball at The Docks downtown
Ashley & Brendan Buckley
Together for two years
Ashley: (Physical Therapist Assistant)
"The connection was instant. We stayed out after our volleyball game until 2am just talking. He was different than anyone I'd ever met before, and I knew that any plans I made in the future should include him."
Brendan: (Nuclear Operator)
"She was so easy to approach. It was so natural. She asked me to hang out after my game finished, and we've been together ever since. From day one, I knew I couldn't imagine my life without her!"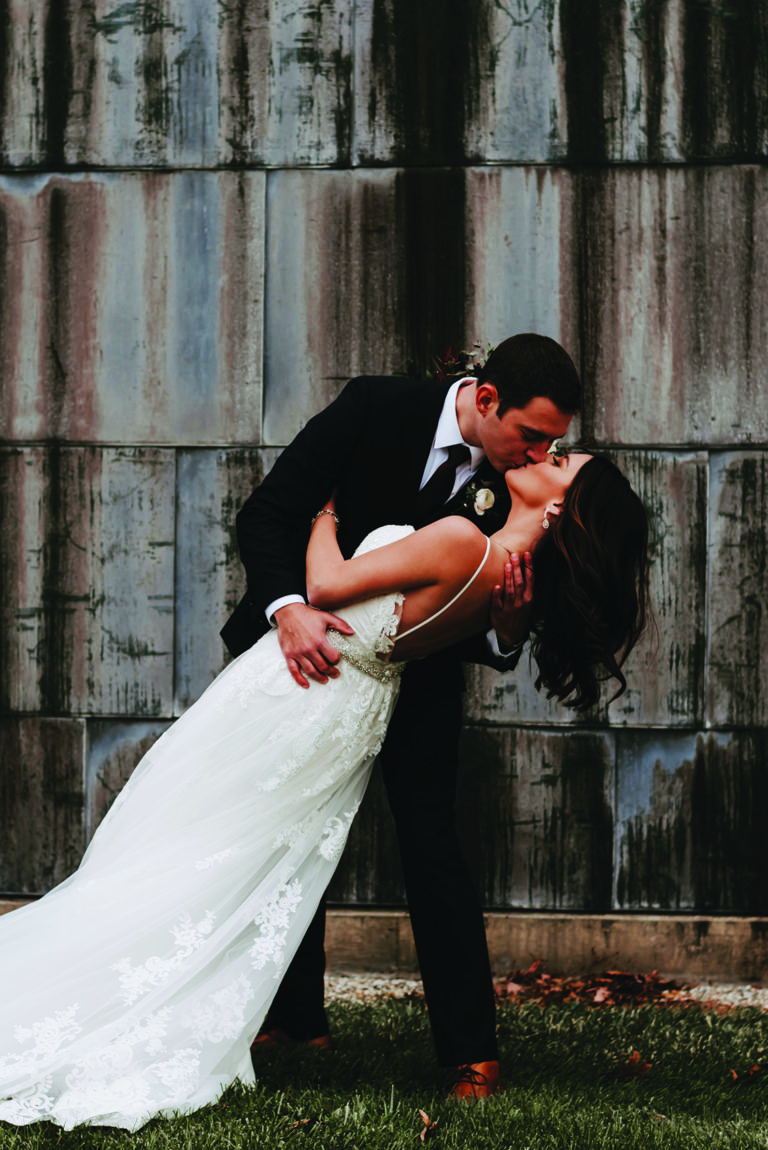 …on an emergency call
Chelsea & Steve Drouillard
Married for one year
Chelsea: (Radiologic technologist at Toledo Hospital Cardiac Cath Lab and Mercy Mobile Stroke Unit)
"Steve is a paramedic/firefighter for Toledo Fire & Rescue Department. We met in 2018 while on an emergency call together for a stroke patient. We coincidentally ran into each other a few more times while working, until Steve reached out via Facebook.  
"Steve proposed during an impromptu photoshoot at Oak Openings the week of my birthday in February 2019. On November 15, 2019 we got married. We kept our plans intimate, and opted out of a wedding party to allow our closest friends and family to be fully present and enjoy the day entirely. We opted for edible cookie dough for dessert, an old used firehose for our guest book, and celebrated with sparklers on the rooftop overlooking the city." 
…at work
Paige & Matthew Powers
Together for five years
Paige: (Business Office Manager At Assisted Living Facility)
"We met working at The Home Depot distribution center in Van Buren, but our paths were always meant to cross. Both he and my brother went to The Findlay University at the same time and had similar friends. While I was living in Toledo, my apartment was on the bottom floor and his best friend lived on the top floor. Then, when we both lived in Bowling Green, he lived in the apartments right next to me." 
---
Vendor Spotlight: Walsh Wedding Videography
Aden Walsh, owner of Walsh Wedding Videography, knows firsthand what a magical experience it can be to rewatch footage from your wedding day. He and his wife Gabrielle have made it a special tradition to watch their own 2015 wedding to honor their anniversary! Having worked in videography for years, Walsh started small in the wedding business, shooting a friend's wedding in 2016. Gabrielle encouraged him to pursue wedding videography as a business when she saw how well he did, and now the two of them are flooded with requests.
Couples considering Walsh Wedding Videography should check out the archives at walshweddingvideography.com, which features videos ranging from the ethereal forest weddings of the Mohican Treehouse Resort in Glenmont and beautiful architecture of Nazareth Hall in Grand Rapids to the rustbelt charm of Toledo's Warehouse District. They have lots of experience fully capturing the ambiance of local wedding venues, but they are also willing to travel to document your destination wedding. 
What sets Walsh Wedding Videography apart from many other businesses is that they don't set any time limits for your wedding day. Speaking from experience here— it is a major perk for any wedding vendor to not require time limits, because the last thing you want to be worrying about on your wedding day is whether your memories are being captured in time. "We have to cut the cake before the videographer leaves!" is not the vibe you want for your big day. 
The package Walsh offers is $3,200 for a three-camera production of your entire wedding day in 4K with high-quality audio, plus teaser and highlight videos. To see a sample of their work, head to our online wedding guide, or visit their website.
Walsh Wedding Videography. 419-245-8204. walshweddingvideography@gmail.com. walshweddingvideography.com