Three artists, one quest: The transformative nature of art. That's the tagline of 20 North Gallery's new exhibit, "The Alchemist's Dream," featuring three area artists: K.A. Letts, Tom Marino and Tom Muir.
In the same way that alchemists were purported to transform base metals into gold, the artists on display at 20 North take basic artistic elements— metals, ceramics, paint— and transform them into an artistic epiphany for their viewers.
Do not touch
Bowling Green artist Tom Muir, a professor at Bowling Green State University, creates metalworks that are evocative and unforgettable. One fascinating piece at 20 North,  titled "Please do not touch the artwork," features a teapot made of pointy sticks. 
When asked what inspired the piece, Muir replied, " I've been a vessel maker my entire career, so with fine metal works, when they're in a gallery, we have a lot of people touching them and finger printing them. So a lot of the time, we have to put signs up saying, 'Don't touch the artwork,' so I made this and gave it kind of a funny name.  But also it was a continuation. I had another series of works where you would have regularly inviting domestic objects like a teapot which people are used to having in their homes and handling them and socializing around them."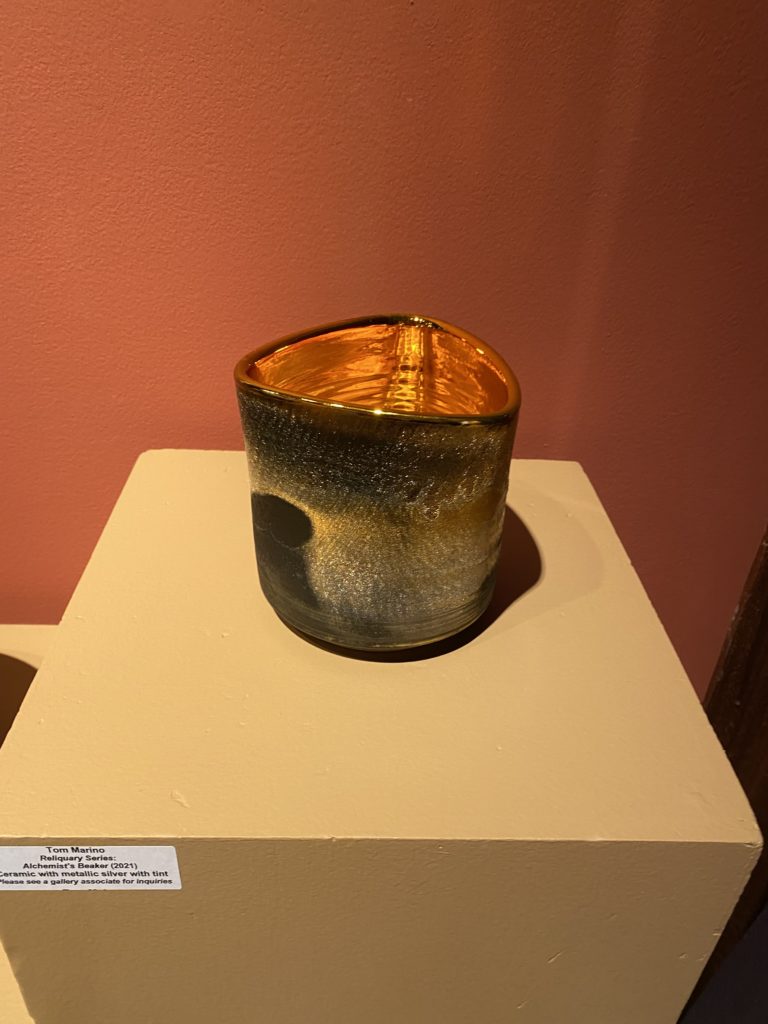 The chemistry of art
A Toledo resident, Tom Marino fashions ceramic pieces to examine themes of transformation and enlightenment. Asked where he found inspiration for his contributions to the show, Marion replied, "Well, I have a background in chemistry, and worked in the field of chemistry my whole career. So chemistry and alchemy go hand in hand; alchemy was the forerunner of modern chemistry. I've also had a big interest in metaphysics, major religions of the world and philosophy. So I tried to blend and synthesize all of that together. And I think the alchemist really epitomizes the idea of transformation, and the idea of seeking higher knowledge. That was essentially the inspiration for my work."
Reimagined myth
The remarkable paintings of K.A. Letts offer a different form of transformation. From Ann Arbor, Letts reimagines and combines mythical narratives from around the world while also synthesizing different art styles into the final product.
"I'm mostly a storyteller. I have two favorite pieces. One of them is 'Primavera,' and I like it because it was the easiest one for me to do," she said with a laugh, adding, "It just kind of happened one day and that's a real gift because a lot of the work in the show took me two or three years to make."
20 North Gallery at 18 N. St. Clair Street, Open to the public through December 24, 2021. Wednesday through Saturday, noon to 4pm