This wedding guide celebrates not just the ceremony and reception, but also the days and months leading up to the big moment. From places to propose to ways you can celebrate bachelor and bachelorette parties, we've rounded up local vendors and venues to help you plan with ease. As always, we have tales of 419 romance, with props to local photographers, to inspire you to create your own memories. Happy Valentine's Day! And happy planning.
Amanda & Adam Godsey
Photo Credit: Green Eye Photography
How did you meet? Bumble. 
Who popped the question, and how?
He asked while we were horseback riding. 
How long was the engagement?
11 months.
What made your wedding day special?
Being able to have our friends and family there to celebrate with us. 
During the wedding planning process, did you ever want to elope
and just get it over with?  Yes, quite often! 
Was there anything in the wedding that didn't go according to plan?
I was late getting to the altar (as he likes to remind me about all the time). 
Did you do anything during the wedding that would be considered non-traditional?
Not particularly. We said our own vows, which isn't as common as pre-written ones. 
Your top moments:
Adam's answer: Seeing me in my dress for the first time and hearing my vows;
My answer: Walking out of the barn together after the ceremony. 
Three words to describe your wedding expectations:
Rustic, fun and romantic.
Three words to describe your wedding reality:
Hectic, hungry and worth it.
Wedding coordinator:
I planned everything with the help of friends and family. 
Caterer:
Wolf It Down BBQ.
: My bridesmaid, Allison Pearce, baked our cake. 
Music/entertainment:
In the Sticks Band. 
Where did you spend your honeymoon?
Mexico.
Tips and tricks for other couples:
Don't get overwhelmed by the little details that you won't even remember. Take time in the day to really enjoy it together. Don't feel pressured to do every little tradition or invite people that aren't part of your life. 
Did you have a bridal shower, lingerie shower, and/or bachelor/bachelorette parties? If so, what did you do? We both kept our parties local. He did a golf outing/pond day, and I did a full weekend with pedal bike/bar crawl, beer olympics and a Sunday bridal shower tea party brunch. 
---
Aleshia & Reuben

 

Furr II

 
Photo Credit: A Byrd's Eye Photography
How did you meet?
We first saw each other at a club called Evolution and exchanged a brief wave. Later that evening, I realized we were Facebook friends, so I sent him a message on Messenger.
Who popped the question, and how?
Jay popped the question at his aunt's house during our monthly family dinners. It was Sunday, February 16, 2020, and what started out as a normal family dinner ended with him surprising me by proposing after we were playing the Just Dance game on the Nintendo Switch. I really should've guessed because, as we were playing, everyone was recording us. But I am so competitive that I just thought everyone wanted to record me beating him! Right after the game was over, I handed off my controller, turned around and he was on one knee. Then I looked around and my mom and other family members just popped up out of nowhere.
How long was the engagement?
One year and four months.
What made your wedding day special?
Being able to share our love for one another and have all our family and friends witness us become one.
During the wedding planning process, did you ever want to elope and just get it over with? ABSOLUTELY! We got engaged in February 2020, and the following month we went on lockdown because of the Covid-19 pandemic. Trying to plan a wedding during a pandemic was crazy! Things started to become unavailable, items became more expensive, I lost my job due to budget cuts, we kept seeing the money we were spending and said we should just buy a house, and our numbers for guests kept changing. It was ROUGH! But God always makes a way. We look back and say we wouldn't have changed a thing. That whole experience showed how strong we are together and why we were meant for each other.
Your top moments:
Our top moments were being able to share this moment with all of our family and friends, having my amazing sister take photos of us, me crying when I said I wasn't going to cry, and just taking a second to look around and seeing all of our loved ones enjoying themselves.
Baker:
Eston's Bakery & Karen Moore.
Videographer:
Damarcus Lett with Jedi Arts Productions.
Wedding coordinator:
Brenda P-Duhart of Par Excel Events, LLC.
Caterer:
Special Occasions Catering In Sandusky.
Music/entertainment:
Lou Guilfurd – DJ Big Lou the Mayor.
---
Winter, Spring, Summer, or Fall

Atlas Bridal Shop breaks down the trends by season
So many factors contribute to making the final decision on your bridal gown. Silhouette, style, color and fabric all come into play when weighing your options. You also want to make sure your dress fits the season, not only for the sake of style, but for your comfort level as well. You may want a breezy gossamer gown, but if you are planning an Ohio wedding in January, it might not be the best option!
We consulted with Jeanne Fairchild, owner of Atlas Bridal Shop, who shared her favorite gowns for each season
---
Winter
Dress by Sottero and Midgley
To us, a winter wedding is all about romance and glamour. This princess-inspired luxe and lace layered gown is exquisite — just add a fur stole and some snow!
---

Spring

Dress by Allure
Lovely blossoms and foliage intertwine across the lace overlay of this long-sleeved sheath gown, making it the perfect choice for a spring wedding! 
---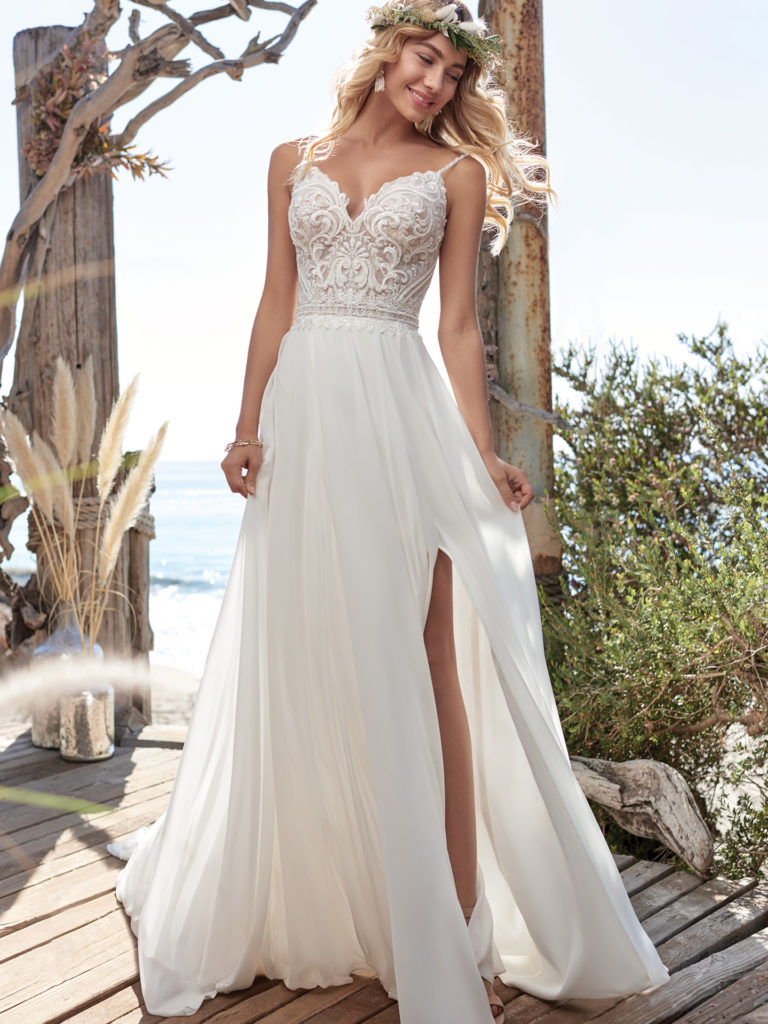 Summer

Dress by Rebecca Ingram
We love this gown for summer because it is soft and dreamy, perfect for the beach or any outdoor location! It is light and breathable for all kinds of weather! 
---
Fall

Dress by Sottero and Midgley
A breathtaking choice for the unconventional bride, this black over nude gown can be paired with fall colors so beautifully. Of course, we love it for a Halloween wedding as well! 
Find these gowns and many other styles at Atlas Bridal Shop. 4895 Monroe St., Ste. 101. 419-474-9119. atlasbridalshop.com
---