A song sung in many British pubs, Beer, Beer, Beer, is so old that there is uncertainty about its origins. A jaunty tune about the drink that makes pubs exist, the song also praises the so-called inventor of beer, a man named Charlie Mops.
The spirit of the song is alive in the Lambertville bar, Charlie Mops Grub and Hops. "We actually have the song on our wall at the restaurant," explains the bar's general manager Natalie Wahl.
Filled Up With Cheer
Charlie Mops opened in 2018 and now offers lunch and dinner service. The building had been various restaurants over the years, and the new owner renovated the building to its current status. Wahl explained the new owner "just wanted a home town bar to enjoy; to be about highlighting our restaurant, not his name."
The main bar and eating room has a large seating area and many windows for a bright pub experience. Though bars are often known for providing food as an afterthought, the selection of edibles at Charlie Mops is testament to the care put into the recipes. House-made sauces and foods are inspired by the song that inspired the name of the bar.
Food specials for each day of the week (including Sunday brunch) include Thursdays with half-priced appetizers including breaded cheese curds, pickle bread, pickle Tiddly Stix and French Onion mushrooms.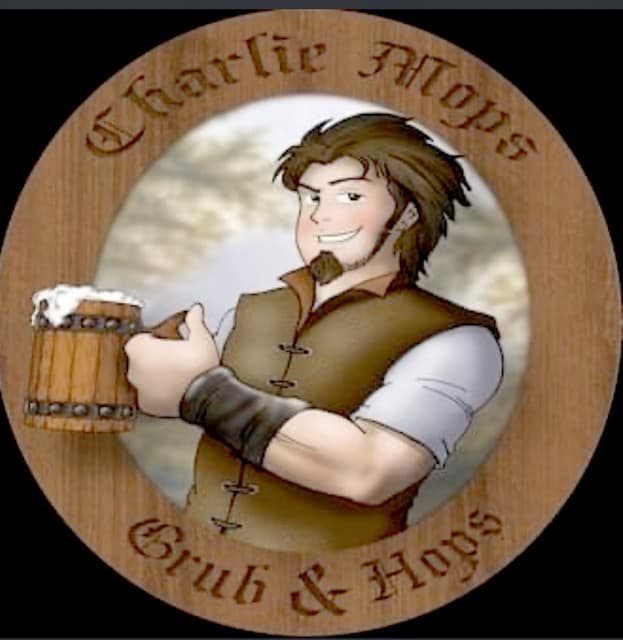 Singing Praises
The cheese curds ($8.99) were an upgraded mozzarella stick, boasting mellow cheese inside and an impressively crunchy exterior, enhanced by a Ranch sauce with a lemony finish. Two pickle-based appetizer options include pickle bread ($9.99), a fluffy-and-crispy pizza crust topped with dill pickles, alfredo sauce and a cheese blend. Tiddly Stix ($7.99), which reference a lyric from Beer, Beer, Beer, are fried pub-style egg rolls. They come in jalapeno-popper, pizza, and pickle varieties. The pickle Stix were perfectly rolled and crunchy outside encasing pickle spears within.
Also Cajun French Onion Mushrooms ($7.99) are seasoned and sauteed in French onion soup, then topped with a swiss cheese blend, reminiscent of the soup itself. The mushrooms are a delightful and fun fusion of a fancy dish and an appetizer.
The sandwich options include the bruschetta grilled cheese ($11.99), one of a line of sandwiches and burgers at Charlie Mops. Paired with freshly-fried pub chips, the grilled cheese is another fascinating combo of two well-loved dishes with toasty bread surrounding havarti and provolone cheeses, tasty marinated tomatoes and a sweet balsamic reduction.
If Charlie Mops only served this grilled cheese sandwich, the recommendation would still be to try the eatery. Not just for the food, not just for the beer, not just for the ambiance; visit Charlie Mops for all of it.
Charlie Mops, 8505 Secor Rd, Lambertville. 734-568-6686. charliemop.com